October marks Cybersecurity Awareness Month, an internationally recognized campaign each October to help the public learn more about the importance of cyber security.

No single security method is good enough to ward off every vulnerability, which is why Apogee's clients have multi-layer security profiles. With The Apogees 7 layers of security, you'll have peace of mind knowing you have considered everything you can to secure your business.
Apogee's Security Solution
At Apogee IT Services, every client's managed services solution includes these 'best practices' for layers of security. All security solutions include licenses & management, including renewals. Plus, we continuously vet new technologies to ensure our clients receive up-to-date protection.
Cloud-based anti-spam
Network-based web filtering & Malware/Botnet protection
Endpoint security including anti-virus & anti-spyware
Internet security firewall/UTM device(s)
Daily backup monitoring & remediation
Remote security patch management & deployment
End-user security awareness training


Data Backup & Disaster Recovery
Given that there is no "perfect solution" to stop all potential cyber security threats, protecting business data is more important than ever before, which is why we offer an image-based backup as part of the Apogee managed services solution with state-of-the-art tools and processes.

As an Apogee client you'll have peace of mind knowing that we follow a 3-2-1 backup philosophy:
Your data will exist in 3 places (including the live data that you use)
2 separate psychical location
1 of which is offsite
Additionally, we have data recovery services and help our clients to develop business continuity plans and incident response plans as applicable.
Backups can be performed as often as every hour of every day. We include 24/7/365 backup monitoring and alerting as part of the Apogee solution. Our technologists will proactively check on any 'no shows' – when backups can't be confirmed – and remediate when necessary. Backup reporting is available at any time and can be produced to meet compliance regulation.

Apogee IT's Seven Layers of Security
Apogee has built their business around designing systems and processes that create CERTAINTY around the security of their client's IT technologies. They focus on delivering security solutions that protect client's data, users, and connectivity as well as meet the compliance requirements of the business. They and their partners provide a level of expertise, tools, processes, and support that is dedicated to protecting against the rampage of attacks that threaten their business every minute of the day.
The seven levels identified by Apogee include:
Mission Critical Assets

–

the part of the organization, product or service you are looking at securing

Data Security

–

security controls in place to protect and monitor your data at rest and in transit

Application Security

–

security controls and policies to protect access to your applications and how your applications access your data

Endpoint Security

–

Controls to protect the connection between your computing devices and the network

Network Security

–

Network controls and policies that protect your organizations network and prevent unauthorized access to your network and resources

Perimeter Security

–

Physical and digital methodologies and policies that protect your overall organization

The Human layer

–

Human security controls, policies and reporting that protect your critical assets from human threats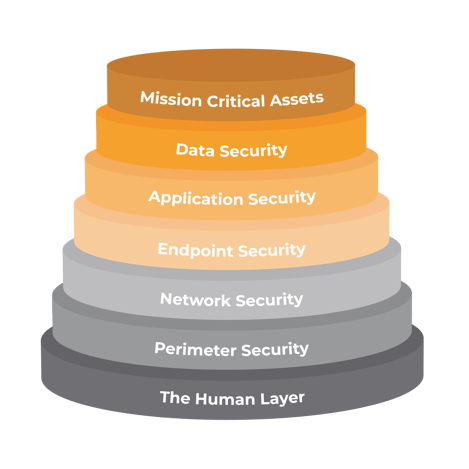 Apogee wants to bring that CERTAINTY to your business. So for a limited time, we are offering a complimentary assessment of the 7 layers of security. Apogee IT Services will review your current IT infrastructure, identify possible vulnerabilities, and provide you with the best course of action to create complete CERTAINTY around your business. Go to the 7 Layer Security page to request an assessment so that Apogee can help you create a level of CERTAINTY that can help your business thrive.